2019 Events
Events for September 19, 2019, will be featured here as they are confirmed.
To submit your event, please click here.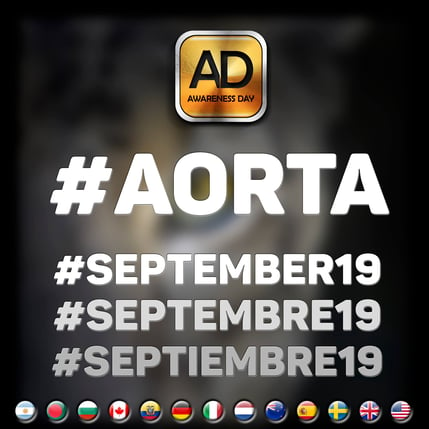 September 19, 2019, Events
Care of Aortic Dissection
Cleveland Clinic
Cleveland, OH, USA
September 19-20, 2019
This interdisciplinary case-based event will provide an in-depth review and analysis of current state-of-the-art practices in the management of patients with aortic dissection. The program, which is for healthcare professionals, is designed to engage learners in debates, discussion, and clinical decision making to share best practices with expert faculty from some of the world's leading multi-disciplinary aorta centers.
For more information and registration, visit the course website.
---
Aortic Dissection Awareness Day UK 2019

University of Leicester

Leicester, United Kingdom

September 19, 2019

Fourth annual Aortic Dissection Awareness Day for patients, family members and healthcare professionals with an interest in Aortic Dissection. Hosted by Prof. Gavin Murphy and the Department of Cardiovascular Sciences. Our theme this year is 'AD Research & Innovation'. Entry by ticket only. Save the date and watch this page for an announcement when booking opens.

For more information and registration, visit the course website.
---
AD-Day Aortic Disease Awareness Day
Ospedale San Raffaele, Milano
Università Vita-Salute San Raffaele, Milano
19 Settembre 2019
"Today is a good day" è il motto scelto dalle associazioni di pazienti e famigliari
che hanno istituito la giornata mondiale dedicata alle patologie aortiche (19 settembre),
attualmente sotto l'egida della Marfan Foundation, per richiamare l'attenzione su patologie
complesse, ancora molto difficili da diagnosticare e da curare.
Stimolati da questa iniziativa abbiamo deciso di organizzare, per la seconda volta,
insieme a un momento di incontro con i pazienti e le famiglie, anche un meeting monotematico
sulla dissezione aortica rivolto agli addetti ai lavori. Gli esperti, Colleghi italiani e stranieri,
hanno accolto con slancio l'invito a illustrare le ultime acquisizioni nell'ambito della diagnosi
e del trattamento open ed endovascolare delle patologie aortiche.
Vi diamo appuntamento al San Raffaele per quello che speriamo possa essere un momento
fruttuoso di scambio e di approfondimento.
Clicca qui per il programma ufficiale dell'evento.

"Today is a good day" is the motto chosen by the associations of patients
and families for the "Aortic Disease Awareness Day" (September 19th), currently under the
auspices of the Marfan Foundation, planned to promote awareness throughout the world
for these complex diseases, still difficult to identify and treat.
Together with the AD Awareness event for patients and their families, we are organising,
for the second time, a meeting focused on aortic dissection, for medical doctors.
Italian and international experts in the field have accepted enthusiastically the invitation
to join the faculty and discuss recent achievements in the diagnosis and open and
endovascular treatment of aortic disease.
We look forward to welcoming you at San Raffaele Hospital for what we hope will be an
enjoyable and educational meeting.
Click
here
for the official event program.
---