2019 Events
Events for September 19, 2019, will be featured here as they are confirmed.
To submit your event, please click here.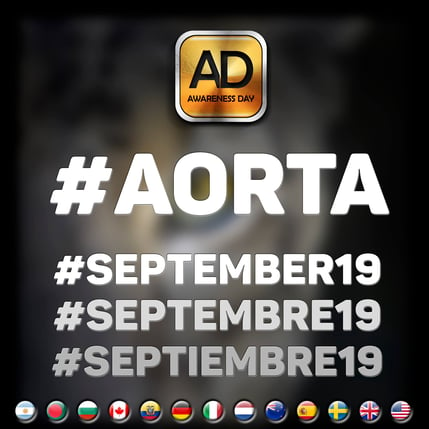 September 18, 2019, Events
Aortic Disease Awareness Day – Ontario, Canada
Queen's University
1-5 pm
September 19, 2019, Events
1st Annual Aortic Disease Awareness Event – Newport Beach, California, USA
September 19, 2019, 5-7 pm
Jeffrey M. Carlton Heart & Vascular Institute
Hoag Aortic Center
An event focusing on education and providing resources to support patients and families living with aortic disease. This event will also include information on Marfan syndrome and associated connective tissue disorders in relationship to aortic disease.
---
CLE

Care of Aortic Dissection Symposium:

C

omprehensive,

L

ife-long, and

E

xpeditious
Cleveland Clinic
Cleveland, OH, USA
September 19-20, 2019
This interdisciplinary case-based event will provide an in-depth review and analysis of current state-of-the-art practices in the management of patients with aortic dissection. The program, which is for healthcare professionals, is designed to engage learners in debates, discussion, and clinical decision making to share best practices with expert faculty from some of the world's leading multi-disciplinary aorta centers. Dr. Eric Roselli provides an overview of the event in this video.
For more information and registration, visit the course website.
---
Inauguration of India's First Exclusive Clinic for Aortic Disease – Chennai, India
September 19, 2019
Institute of Cardia and Aortic Disorders
The program, which will inaugurate India's first exclusive aortic clinic, the Aortic Aneurysm Centre at SIMS Hospital, will also include an awareness program for the general public and a symposium on aortic disease and management for family physicians. The hospital will also be offering free aortic disease screenings.
---
Aortic Disease Awareness Day – Malaga, Spain
Hospital Quironsalud Marbella
This is a multidisciplinary event with critical care, emergency, reanimation, internal medicine, radiology colleagues sharing advances in their fields, as well as special participants, patients who share their own life experience after aortic diseases treatment in our center.
---
Aortic Disease Awareness Day Lectures – Munich, Germany
Ludwig-Maximilians Universitat – Munchen
September 19, 2019
Join LMU for a two-hour program for patients featuring four lectures on aortic disease at the Ludwig-Maximilians-University (LMU) Munich. In addition to the presentations, there will be time for discussion with the doctors and an opportunity for patients to meet.
For more information, click here.
---
Aortic Dissection Awareness Day UK 2019
University of Leicester
Leicester, United Kingdom
September 19, 2019
Fourth annual Aortic Dissection Awareness Day for patients, family members and healthcare professionals with an interest in Aortic Dissection. Hosted by Prof. Gavin Murphy and the Department of Cardiovascular Sciences. Our theme this year is 'AD Research & Innovation'. Entry by ticket only. Save the date and watch this page for an announcement when booking opens.
For more information and registration, visit the course website or event page.
---
International Aortic Day at Care Forum -Sweden
September 19, 2019 | 10:00 am - 2:00 pm
Karolinska University Hospital Stockholm
Welcome to Career Forum which on Wednesday September 19th draws attention to the international aortic day. With an aortic day, we want to spread more knowledge about aortic diseases, how to prevent and treat these. The day is laid out as a drop in where you can come and mingle when it suits you best between 10 - 14. You can meet staff from Tema Heart and Heart that you can ask your questions to and take part of information material. Among other things, vascular surgeon, patient representatives and nurses are involved who can tell more about good living habits for better vascular health.
For more information, click here.
---
AD-Day Aortic Disease Awareness Day
Ospedale San Raffaele, Milano
Università Vita-Salute San Raffaele, Milano
19 Settembre 2019
"Today is a good day" è il motto scelto dalle associazioni di pazienti e famigliari
che hanno istituito la giornata mondiale dedicata alle patologie aortiche (19 settembre),
attualmente sotto l'egida della Marfan Foundation, per richiamare l'attenzione su patologie
complesse, ancora molto difficili da diagnosticare e da curare.
Stimolati da questa iniziativa abbiamo deciso di organizzare, per la seconda volta,
insieme a un momento di incontro con i pazienti e le famiglie, anche un meeting monotematico
sulla dissezione aortica rivolto agli addetti ai lavori. Gli esperti, Colleghi italiani e stranieri,
hanno accolto con slancio l'invito a illustrare le ultime acquisizioni nell'ambito della diagnosi
e del trattamento open ed endovascolare delle patologie aortiche.
Vi diamo appuntamento al San Raffaele per quello che speriamo possa essere un momento
fruttuoso di scambio e di approfondimento.
Clicca qui per il programma ufficiale dell'evento.

"Today is a good day" is the motto chosen by the associations of patients
and families for the "Aortic Disease Awareness Day" (September 19th), currently under the
auspices of the Marfan Foundation, planned to promote awareness throughout the world
for these complex diseases, still difficult to identify and treat.
Together with the AD Awareness event for patients and their families, we are organising,
for the second time, a meeting focused on aortic dissection, for medical doctors.
Italian and international experts in the field have accepted enthusiastically the invitation
to join the faculty and discuss recent achievements in the diagnosis and open and
endovascular treatment of aortic disease.
We look forward to welcoming you at San Raffaele Hospital for what we hope will be an
enjoyable and educational meeting.
---
Aortic Disease Awareness Day at Limoges Hospital – France
September 19, 2019
The Association of Patients with Aortic Dissection is a non-profit organization created to increase education and awareness of aortic disease, support people who have aortic disease., and support research. It was founded by people who are aortic dissections survivors. The September 19 event is being held partnership with the Association La Marguerite. Survivors and families are invited to attend for an exchange of information and support. For more information please contact: nepveulisa@yahoo.com or Facebook.com/aorta.fr
---
September 21, 2019, Events
From London with Love: A benefit concert to raise awareness for Aortic Health
Saturday, September 21, 8-11 pm
River City Extreme
3875 School Blvd.
Monticello, MN 55362
Rock from the Heart (RFTH) formed after its founder survived aortic aneurysm and aortic valve replacement surgery. The organization supports heart disease education and awareness programs with a primary focus on aortic health. Thoracic aortic aneurysms are rare, occurring in approximately 6-10 per every 100,000 people. About 20% of those cases are linked to family history. Because the disease is rare, there is limited information available to those at risk and to those diagnosed with the condition. RFTH aims to change that by holding events that bring the condition into the forefront, committed to increasing public awareness of the factors that put people at risk for thoracic aortic disease, and to improving the diagnosis and management of these life-threatening conditions. RFTH will also support programs and organizations working to bring high quality cardiovascular care to rural communities and smaller hospitals. RFTH will focus on developing resources designed to improve the diagnosis, treatment and management of aortic disease by advocating for early detection, meaningful support, and timely access to appropriate treatment for all people affected.
For more information and for tickets, please click here.
---
Patient Day on Thoracic Aortic Surgery - Germany
September 21, 2019
9:30 am – 12 noon
Medical School at Hanover
Presentations will cover current European treatment guidelines, endocarditis prophylaxis, trauma deficiency in patients with aortic diseases, experiences in Holland, and more. There will also be an opportunity for personal exchange with the aortic team of cardiac, thoracic, transplantation, and vascular surgery doctors.
For more information, please contact Ms. J. Gruühagen, +49-(0) 511-532-6589 or grunehagen.janina@mh-hannover.de.
---
Related Medical Meetings This Month
Cartagena, Columbia
The XI Congress of Endovascular Surgeons of Latin America
September 19-21, 2019
Miami, Florida, USA
3rd International Congress and Expo on Heart & Cardiology
September 19-20, 2019
Montreal, Canada
2nd Heritable Aortic Disorders Symposium
September 6-7, 2019
---